Make injection molds for plastic products in China
Mold is a tool for molding and processing of plastic parts. Mold making is an important but complex stage for plastic molding. Usually, the mold has two parts, an upper mold and a lower mold. Small up to the plastic molded parts for electronic connectors, large up to the plastic products for car dashboard, both of them can be molded with plastic mold.
ACO Mold injection molding company is located in Guangdong China
, with more than 10 years experience in plastic molding manufacturing. We provide one-stop injection mold making service. We have strong R&D ability, to customize the plastic mold for your plastic products. We export exported mold and production mold, that is, if your product project is super large volume injection molding, we will recommend that you can order plastic injection mold from ACO Mold injection molding manufacturer and do injection molding at your local. Or you also can choose injection mold making and injection molding are all in ACO Mold injection molding company.
What services can ACO Mold injection molding company provide?
» CAD design/ mold flow analysis/DFM
» Injection mold making
» Plastic injection molding
» Rapid prototyping, low volume injection molding
» Laser carving, painting, skill printing, and products assembly etc
Injection mold making process of ACO Mold injection molding company
When you selecting Chinese injection molding factory as partner in mold making, and you are far away from China, it is good for you to learn about injection mold making process in China. You can better remotely control and manage your mold building project.
Mold making process is mainly includes mold design, mold material preparation, mold machining, mold fitting, and mold trial. Below is mold making process of ACO Mold injection molding company.
1.
Mold design
After receiving products 2D/3D drawings provided by the product development company, and before injection mold making, the mold engineers from injection molding factory will firstly do DFM and product analysis, and then start mold design. High quality injection mold and injection molded part start with great mold design. So ACO Mold injection molding company pays special attention to plastic mold construction, gates, runners, cooling channels and mechanisms to ensure the best solution are used. We work with customer closely to determine details such as mold steel, mold accessories standard, raw materials selection etc. Constructive suggestions are always made for the benefit of customer. All molds are carefully designed to maximize its service life and to ease maintenance, all molds are made economically and functionality to meet customer's expectations. Our design/engineering technologies include:
• Pro/Engineer/SolidWorks/UG (3D Modeling)
• AutoCAD (2D layout)
• Moldflow analysis (Plastic flow/deform simulation)
• MasterCam (CNC Programming)
We have 8 mold designers with more than 10 years experience in plastic molding industry. In injection mold making, the mold design is a very important part. It is necessary to comprehensively consider various factors, and finally the designed injection mold can meet the various requirements of large volume injection molding.
2. Mold materials preparation
After mold design is confirmed, injection molding factory can prepare mold materials for injection mold making. And the materials, such as mold base and mold steel can be prepared immediately once the mold design get confirm.
3. Mold machining
The mold materials must go through roughing, heat treatment, and finishing. The so-called roughing is to machine the general shape of the injection mold with a machine tool. The machine tools and tools used for roughing are relatively low in precision, so the processing speed will be faster. There are needs to leave a margin, usually 0.15-0.3 mm steel left for precision machining later when roughing. Heat treatment is to eliminate stress in mold and make the stress uniform. Moreover, after heat treatment, the amount of finishing work is reduced. After heat treatment, finishing for mold is performed with precision machine tools and tools.
4. Mold fitting
Mold fitting means that according to the mold fitting drawing and technical requirements, the mold parts are matched, positioned, connected and fastened according to a certain process sequence, so that it becomes an injection mold that meets the injection molding requirements of plastic products.
5. Mold trial
After all the above mold making process is completed, we can perform mold trial to sampling. Mold trial is necessary for large volume injection molding. There are maybe various product defects during injection molding. In order to avoid the risk of causing product defects, avoid causing larger loss in the large volume injection molding, it is necessary to analyze the process parameters and mold design through mold trial and optimize them accordingly.
Mold making case
This injection mold making project is automobile tail plastic part, the material is ABS.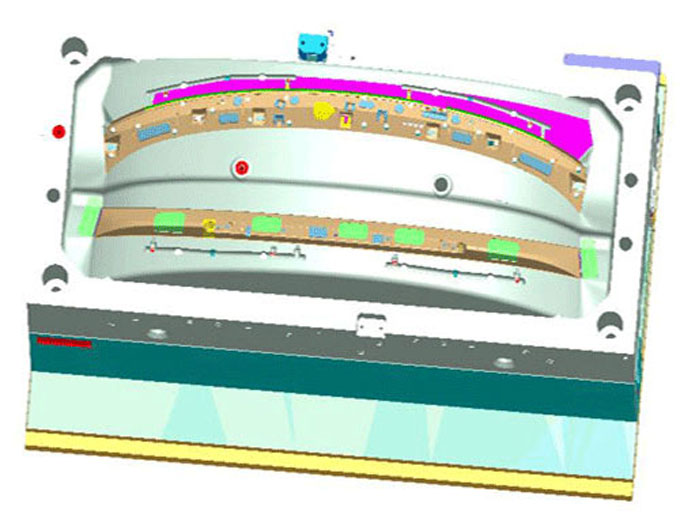 Basic information
Product size: 1124x118x240mm
Plastic material: ABS
Product color: Black
Mold size: 1400x930x890mm
Mold weight: 6300KG
Cavity number: 1+1
Mold type: 2-Plate
Molding Machine (Tons): 1300T
The plastic part for automotive is appearance part, the requirement for appearance quality is very high. It requires that there are no appearance defects on the surface of the plastic product, such as weld marks, sink marks, etc. ACO Mold injection molding factory uses a horizontal, 5-axis machining center, double-head spark machine to process large-size, high-drop native A and B plates. Injection mold making took 25 days and the injection molding cycle is 65s.
Why make injection mold for your plastic products in China?
You may hear some bad voices that injection molds made in China is in low quality. But there are still company order Chinese injection mold. Why? Are they buying molds from China only because injection molds made in China are cheap? ACO Mold injection molding company believes that there is no any company is willing to sacrifice the mold quality and the quality of injection molding plastic parts for the sake of low prices.
With the rapid development of Chinese plastic molding industry, China has become the largest producer of plastic products. More and more Chinese companies are engaged in mold making and injection molding. The competition between injection molding companies also promotes the development of Chinese injection molding industry to high-end and high-quality injection molding. So in China, you can also find injection molding company with good quality assurance. Making plastic injection molds in China is economical. You can not only get the quality assurance, but also get the price advantage.
If your product is still in concept stage,
welcome to ACO Mold injection molding manufacturer and contact us to get free quote
. The engineers from ACO Mold will give you solutions, recommend the most suitable materials, and help you take the lead in the market.