Mold Manufacturer China

mold@acomold.com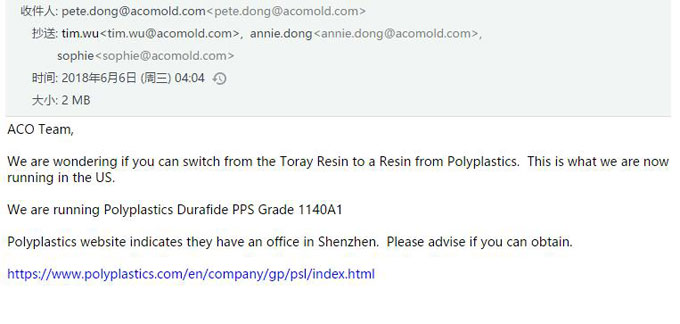 A small mistake may lead to the failure of a project, so it is necessary for related injection mold makers and engineers to have a final checking before mold making project start, make sure all the critical aspects well noted, by good communication, reach a final agreement with customer as well. This can massively reduce the possible failure and rework afterwards. Following aspects should be paid attention for it.
The application fields of nylon 66 are generally in the fields of automobiles, electronic appliances, chemical equipment, machinery and the like. From the end use point of view, the nylon 66 consumed by the automotive industry took the first place, and the electronic appliances accounted for the second place. About 88% of nylon 66 is processed into various plastic products by injection molding, and about 12% of nylon 66 is processed into corresponding plastic products by extrusion, blow molding and other molding processes.
Guangdong
Guangdong is the most important plastic injection mold market in China now, and it is also Chinese largest plastic mold export and import province. More than 40% of the Chinese plastic injection molds are made in Guangdong. And the numerical control rate of and equipment performance of mold machining equipment, mold processing technology, production specialization level and standard level lead other provinces and cities in China.

Among the top 10 injection molding companies in China, there are five companies are from Guangdong. And the world's largest mold base supplier and Asia's largest injection molding manufacturer are in Guangdong.
With the further optimization of Guangdong's industrial structure, the development of many industries such as petrochemicals, automobiles, and high-tech has put forward higher requirements for injection mold manufacturing in Guangdong. In the next few years, injection mold manufacturing will become increasingly precision and high-end.