Mold Manufacturer China

mold@acomold.com
In the metal mold industry, the market for molds grows. With the establishment of industrial parks for molds across the country, China's mold industry has gained market recognition and rapid development. In mid-to-high-end production, it has also been able to achieve higher-level upgrades and jumps from the earliest stages of development. , injection mold or other are also gradually developed.


To me the key is getting the resin into the injection mold quickly, slowing cooling to the Tg all the part and then cooling it slowly down to room temperature. If there was a way to injection a warm injection mold and then bring the temperature of the part down slowly and evenly at first and then speed it up this would be an asset. Naturally I have considered other ideas over the years. Air cooling could allow an on off approach to cooling, but I have set up a PET tape process with just air drying after the bath and the volume of high pressure air required to get significant cooling is costly.
You can work with the same mold, but you need to consider what happening with the cavity surface, due to a great friction inside if try a 50% of G.F., your mold must be have a surface treatments, or special finishing protection, also some time is better use special oil.
If the sink marks is continuously you can try to improve some special test runs into the injection molding machine process, I recommend you try with 3-4 different profiles at the second pressure in order to led the flow front advance and fill the cavities more properly.
The data of the material that you are using is around of: Linear mold shrink for PA66+30GF 0.2-0.6%
Melt temperature 428-579 °F
Mold temp. 104-140°F
Linear mold shrink for PA66+50GF 0.09-0.11%
Melt temperature 455-590 °F
Mold temp. 104-140°F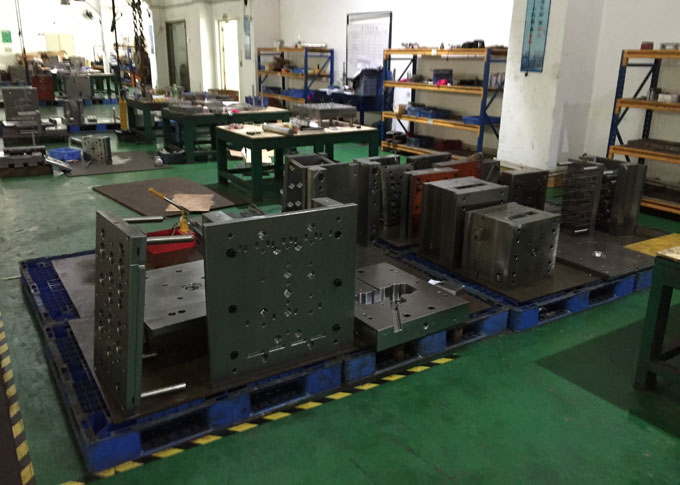 Most of the injection molding machine manufactures tend to use the same control panel for both hydraulics and electric but the way electrics control velocity to pressure and screw recovery are different to hydraulic injection molding machines, some machines have shown some issues due to this, also when using core pulls on electric injection molding machines it may be required to get a mobile hydraulic core pull unit as some tools have hydraulic core pulls.