Mold Manufacturer China

sales@acomold.com


I am asking Chinese mold flow experts- have you produced mold flow simulations with tools where either part thickness varies and or cooling channels are not uniform, or are not conformal with uniform pitch- how do you model uneven tool temperatures and uneven part thickness average temperature? Would you deliver a mold flow simulation with differential mold shrinkage so tool can be cut with compensation? Otherwise we are back to surrogate tool or prototype too?
On prototype mold worth remembering the tool material and cooling geometry can have vast difference in shrinkage and be disaster when proceeding to production tool from Al tool with minimal cooling.
Mold Design - We tend to get better designed molds in the USA. If the injection mold can be designed in the US and build in China, this has produced superior molds for us.
Lead Times - Maybe we just had a bad experience, but one injection mold seemed to take the slow boat across the ocean. The lead time wasn't competitive with a stateside mold.
Mold Trial - Generally not possible to be on hand for the initial injection mold trial in China.
Mold Modifications - We have gotten better/faster injection mold modifications when the mold was able to be sent back to the original mold maker in the USA. Sending the mold to China to be modified is cost prohibitive, so a 3rd party mold maker has to make the injection mold modifications.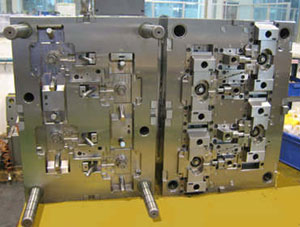 Mold price
= materials cost + design cost + processing cost and profit + VAT + tryout cost + packing and shipping costs
The typical ratio is:
Materials cost: materials and standard parts proportion are 15% - 30% of total cost;
Processing cost and profits: 30% - 50%;
Designing cost: 10% - 15% of total cost;
Tryout: large and medium size molds can be controlled within 3%, small precision molds within 5%;
Packing and shipping costs: according to the actual calculation or by 3% of total cost;
VAT: 17%